Apple, Celery & Fennel
Mashed Potatoes
Based on When Good Fruit Goes Bad
by Vernon D. Gibbs II
This twist on a classic side dish (mashed potatoes) is inspired by the new children's book When Good Fruit Goes Bad by Vernon D. Gibbs II. This tongue in cheek tale teaches children not to judge a fruit (and we can even make a parallel here to a person) by their appearance. When Hank – the local fruit vendor – tosses a bruised apple into the trash bin, the apple leads a produce revolution. As author and illustrator Vernon puts it, "Despite some bumps and bruises that might keep you from looking and feeling 'perfect,' you have value!"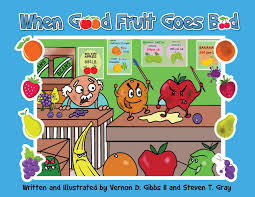 Bruised apples and wilted celery find new life in this mashed potato mix up!
Makes: 5 cups
Contains: Milk
Diet Type: Gluten Free
Challenge Level: Piece of Cake
Active Time: 30 minutes
Total Time: 1 hour
Ingredients
3 potatoes, peeled and roughly chopped
1 bulb fresh fennel, chopped
60 grams unsalted butter
2½ celery stems, washed, peeled and trimmed of leaves
1 apple, peeled and chopped
½ cup 100% apple juice (amount of juice depends on the size of your potatoes)
3 tablespoons plain Greek yogurt
Instructions
Wash celery, remove the leaves and trim the stems. Then slice it into small pieces.
In a wide pot over low heat, melt butter, then add celery and cook for 4 minutes.
Add the potatoes, fennel and apple.
Cook about 10 minutes.
Pour in the apple juice and cover the pot.  Cook for 30 minutes or until all the ingredients are tender.
Remove from heat and stir in yogurt.
To mash, use a hand blender or potato smasher and mash the mixture until you get a smooth, creamy consistency.
Kids Can
Wash celery, apple, fennel
Scrub potatoes
Scoop yogurt
Mash potatoes into a puree
Watch Out For