Classic Rock Meatloaf
I WOULD DO ANYTHING FOR LOVE…
AND MEATLOAF
2020 has me a little nostalgic for simpler times. I find myself tuning into the classic rock station on the radio and turning down today's pop. (Except for Lady Gaga – LOVE HER!) I'm probably dating myself, but some of the rock on that classic station wasn't classic when I was little. It was new.  When I was 10, my mom used to play me a song by the Rockstar "Meat Loaf".  We listened to it nonstop, so, it was no surprise when, "I Would do Anything for Love" came on the radio I still remembered every word.  Turning up the music and belting out this rock ballad brought back so many happy memories from childhood.  
Listening to Meat Loaf the Rocker inspired me to make my ultimate comfort food with my kids, and you guessed it—meatloaf, the food.  Comfort food for comfort music. Another bonus is instead of Paw Patrol lyrics, my 5-year-old belts out John Cougar Mellencamp, and my 4-year-old dances around to Led Zeppelin. As a child of great music, seeing my kids appreciate the same songs I do makes me feel like everything is going to be ok.
P.S. Hearing Meat Loaf didn't just send me down memory lane, it sent me to Amazon where I discovered Meat Loaf's autobiography. Waiting for my prime delivery now…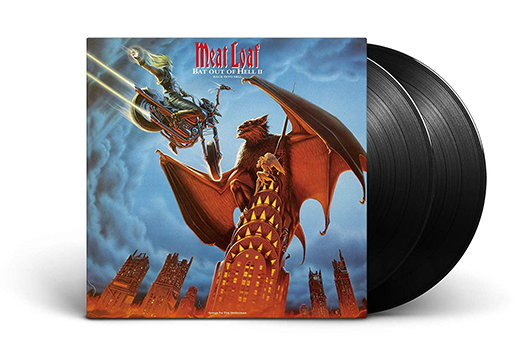 What makes a dish "comfort food"? It's food you love to eat, and the reasons why you love it go beyond taste. Comfort food has psychological benefits – just thinking about it has positive effects on your brain! Comfort foods are associated with happy memories, love, celebration, family and friends.  Choose to serve a food with health benefits like this meatloaf (beef is a great source of protein, vitamins and minerals) as your family's comfort food and they will return to a nutritious option again and again.
Makes: 1 loaf (Serves 6 to 8)
Contains: Milk, Egg, Wheat
Challenge Level: Piece of Cake
Active Time: 20 minutes
Total Time: 1 hour 20 minutes
Ingredients
500 to 700 grams lean ground beef
½ cup powdered milk
1 cup tomato sauce
1 tablespoon Worcestershire sauce
½ teaspoon mustard powder
¼ teaspoon black pepper
½ teaspoon dried oregano
½ teaspoon dried basil
1 garlic clove minced or

⅛

teaspoon garlic powder
1 egg
1 cup bread crumbs
1 small onion, small dice
¼ cup ketchup or barbecue sauce, plus additional for the top
Instructions
Preheat oven to 350°C, convection bake.
In a large bowl, mix all the ingredients. The mixture is has the texture of a "dough".
Paint a bread pan with vegetable oil (20 x 10 cm is a good size)
Spoon the meatloaf dough inside the pan and spread an even layer of ketchup or barbecue sauce on top.
Bake uncovered until meat is no longer pink in the center, about 1 hour, depending on your oven.
Let stand 10 minutes before serving.
Tip: Make 2 at once and freeze the extra meatloaf.  Reheat in oven until internal temperature reaches 165°F.
Kids Can
Crack eggs

Measure spices and bread crumbs

Squeeze ketchup on top

Paint bread pan with oil

Set the timer
Watch Out For
Wash hands with soap and water after handling raw meat
Nutrient Analysis: (serving size: 1 slice of meatloaf)