Country "Stone" Soup
Making something from Nothing
Based on Stone Soup
by Ann McGovern
Rex's pre-kindergarten class just finished reading different versions of the story, Stone Soup. Their teacher, the wonderful Mrs. Smith, is teaching them about story- telling. She is also showing them the power of imagination, because each version of Stone Soup she read to the class had a different illustrator. The version of Stone Soup I grew up with is by Ann McGovern and illustrated by Nola Langner. Rex's class hadn't seen this version yet so I sent it in. At Rex's request, I created a Stone Soup recipe to go with the story.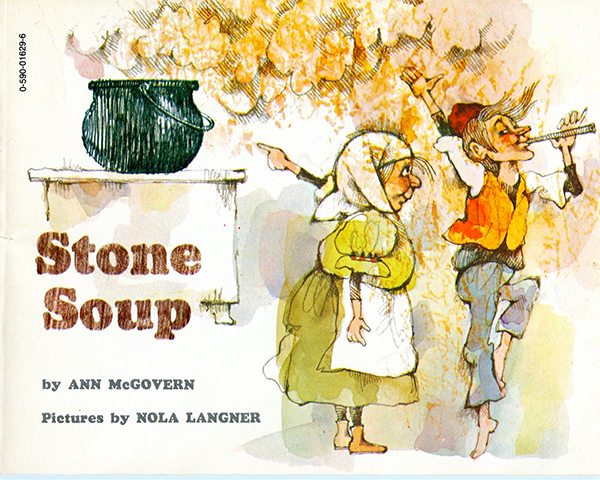 The heart of this smooth and velvety soup is the chicken stock. Take the time to make your own or buy a high-quality chicken stock (I like the one by Kitchen Basics) instead of using bullion. Since stock is made from bone, using it will give your soup all the nutrients that the bone has to offer as well as collagen, marrow, amino acids and minerals.
Makes: 4 cups
Contains: None of the common allergens
Diet Type: Gluten Free, Dairy Free
Challenge Level: Piece of Cake
Active Time: 45 minutes
Total Time: 1 hour
Ingredients
For the Chicken Meatballs ("Stones"):
1 pound ground chicken
½ cup bread crumbs
½ cup Parmesan cheese (the kind that looks like powder)
1 tablespoon Italian seasoning blend
1 egg
Drizzles of olive oil, enough to unite the meatballs
For the Soup:
6 cups chicken stock
3 small carrots, medium dice
3 stalks celery, medium dice
1 small onion, medium dice
1 tablespoon minced garlic
1 cup wild rice, cooked
Handful of green onion
Salt and pepper to taste
Instructions
For the Chicken Meatballs
Preheat oven to 400°F bake setting.
In a large bowl, use clean hands to mix all ingredients together until the meat forms a large bowl.
Spray a baking pan with cooking oil.
With clean hands, roll 1-inch meatballs until you have used all the meat.
Bake for 20 minutes.
For the Soup: 
Combine all ingredients in a 5-quart saucepan. Cook for 20 minutes.
Add cooked meatballs, the "stones", to the soup and cook an additional 10 minutes.
Serve hot. 
Kids Can
Wash carrots and celery

Measure bread crumbs and Parmesan

Prepare baking sheet

Set timer
Watch Out For
Hot oven and hot soup

Sharp knives
Roasted corn and carrots would make a welcome addition to this festive holiday dish.
Nutrient Analysis: (serving size: half a cup)