Green Tomato Salsa
Growing a garden during COVID-19
Based on the book Garden of Small Beginnings
by Abbi Waxman
Within months of purchasing our first home, the covid-19 crisis of 2020 gripped the world. We decided to plant a garden in our backyard and patio—tomatoes, summer squash, peppers and loads of herbs. It was both something to do with the kids and would (with luck) provide some fresh ingredients for me to cook with.
I picked up this book a few weeks ago as our tomato plants were dying (or perhaps drowning in the pounding Florida rain), expecting it to teach me something new about gardening. It does, but that's not why I have kept reading it. The Garden of Small Beginnings is the story of a young widowed illustrator, Lilian Girvan, who is taking on the sometimes-overwhelming task of daily living while raising two young daughters as a single mom. I immediately identified with Lilian who is quirky, sarcastic, loves Target and coffee—if you're like me, you'll wish she lived next door. 
Without giving too much away, Lilian's boss signs her up for a gardening class, supposedly to prepare her to illustrate a series of boutique vegetable guides. While getting her hands dirty, literally, she starts to re-grow her life and see the possibility of a new beginning. 
Unable to save our tomatoes, Todd and I picked all the green ones. Fed up with the mess of Fried Green Tomatoes, we created this recipe for a "Starter Garden" salsa that will knock your socks off!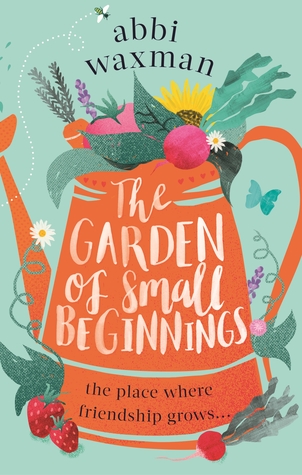 Anytime you can incorporate more veggies in your day, it's a good thing. Most people don't get the recommended 5 servings of fruits and vegetable every day. This fresh salsa will help.
Makes: 6 cups
Contains: None of the Common Allergens
Diet Type: Gluten Free, Dairy free option
Challenge Level: Just a pinch involved
Active Time: 1 hour
Total Time: 3 hours (includes 2 hours refrigeration)
Ingredients
3 pounds green tomatoes
2 poblano peppers
2 summer squash (the yellow ones)
1 yellow onion
1 head of garlic
Extra virgin olive oil, enough to paint the veggies
1/4 up to 1/3 cup apple cider vinegar (depends on the sweetness of your tomatoes)
1 teaspoon dried oregano
½ teaspoon dried red pepper flakes, more or less to taste
Salt and pepper to taste
Crumbled queso fresco for garnish (optional)
Instructions
Cut your vegetables in thick slices (except the garlic which you will roast whole) and light the grill. Keep the fire low.
Paint veggie slices with olive oil so they don't stick to the grill.
Spread veggies in a single layer and sprinkle with salt and pepper.
Cook low and slow for about an hour, checking on them every 20 minutes to make sure nothing is burning.
When you have a nice char on the edges, remove veggies from heat and transfer to a bowl. Refrigerate 2 hours or until cool.
Squeeze the roasted garlic out of its skin.
Combine all ingredients in the food processor. (Tip: Start with less vinegar—it's easier to add more than to take away.) Pulse until your salsa reaches desired consistency.
Top with queso fresco (optional) and serve with corn chips or on top of grilled chicken.
Kids Can
Pick tomatoes
Crumble queso
Taste
Watch Out For
Sharp blades of a knife or food processor
Hot grill
Nutrient Analysis: (serving size: 1/2 cup – includes 1 cup queso fresco in recipe)