Kohlrabi Soup
Based on the book How Not to Die Alone
by 
Richard Roper
Described as smart, darkly funny and life-affirming, this debut novel by Richard Roper is about taking chances – even when we feel we have the most to lose.  Towards the end of the book, there is a dinner party, which involves a lot of stressful planning. Here is the excerpt that inspired me to find and discover the main ingredient in this soup…
"Just then, he received a text from Jim with the menu for that evening (the food sounded reassuringly posh—what , indeed, was kohlrabi?) …"
If you have never heard of kohlrabi, don't feel embarrassed. Before I read this book I had never heard of it either.  Turns out, kohlrabi is a German Turnip, although it is more closely related to cabbage than it is to a root vegetable. Like cabbage it can be green or purple or pale. It has a mild flavor, meaty texture and is packed full of vitamins C and B6 as well as fiber and potassium. I tracked it down at my local Whole Foods Market and mixed it with homemade stock, fresh lemongrass and ginger, for a soup that felt life-affirming and tasted sufficiently posh.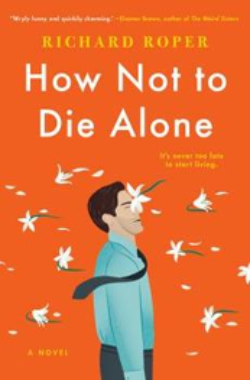 Makes: about 4 cups
Contains: Milk
Diet Type: Gluten Free
Challenge Level: Piece of Cake
Active Time: 15 minutes
Total Time: 45 minutes
Ingredients
3 tablespoons unsalted butter
1 onion
2 kohlrabi (substitute turnips if you can't find kohlrabi)
2 medium carrots
3 to 4 cups chicken or bone broth
12 inches (1 stalk) lemongrass
Thumb of fresh ginger
5 ounces each of ricotta and sour cream
Salt and pepper to taste
Handful of fresh parsley for garnish
Instructions
Dice up the onion, throw it in a pot with 1 tablespoon of butter. Let it simmer while you're taking care of the other veggies, about 10 minutes

Peel the carrots and kohlrabi. Dice and throw them into the pot with the rest of the butter.

Finely slice the lemongrass and grate the ginger. Add to the mix.

Pour in the broth and cook on a medium heat for about 25 mins. If you accidentally forget about the soup, add some extra water or more broth.

Add ricotta and sour cream and stir until it melts into the soup. Reduce heat to low and cook for 5 more minutes.

Taste, season with salt and pepper as desired and serve hot with a sprinkle of parsley. .
Recipe Mix Up: If you don't like chunks in your soup (or your kids don't), blend the kohlrabi soup until smooth and velvety in texture.  It's best to blend in batches.
Kids Can
Wash the vegetables
Peel the carrot
Scrape the skin off ginger with the side of a spoon
Spoon ricotta and sour cream into the pot
Watch Out For
Sharp Knives
Hot stove and soup!