Pear and Goat Cheese Quiche
ALL FOR PIE, AND PIE FOR ALL!
Based on All for Pie Pie for All
by David Martin
All for Pie Pie for All by David Martin and illustrated by Valeri Gorbachev got my family thinking about pie and its cousin, quiche. In the story, Grandma Cat makes a pie for her family. The mice and ants also get some until there is not even a crumb left. This quiche is the dish I always bring to brunches, baby showers and engagement parties. The sweet and salty flavor of pears and goat cheese are a crowd pleaser – there is never a crumb left.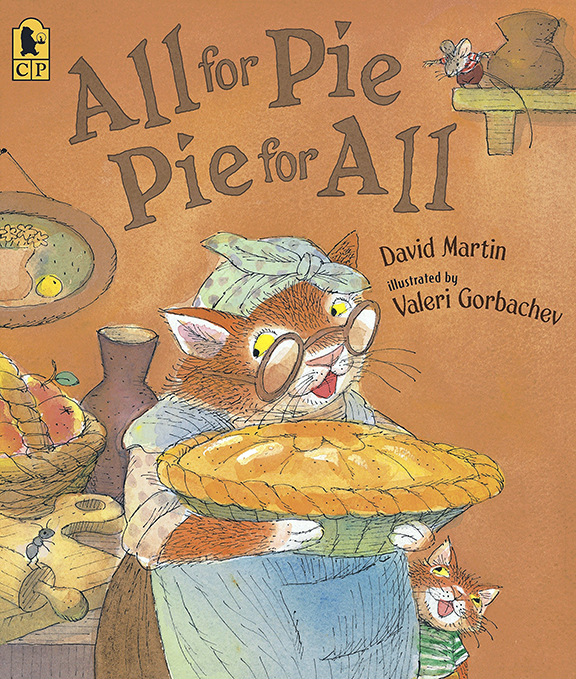 This quiche combines the most of the food groups. Dairy, protein, fruit and grains are all well-represented making a one-dish wonder that's delicious and nutritious.
Makes:1 quiche (8 slices)
Contains: Milk, Egg, Wheat, Tree Nuts
Challenge Level: Just a pinch involved
Active Time: 30 minutes
Total Time: 1 hour 5 minutes
Ingredients
1 pie crust (homemade or store bought)
2 tablespoons almond flour
2 to 3 ripe but firm pears, sliced
100 grams crumbled goat cheese
100 grams mozzarella cheese, torn
Prosciutto sliced into ribbons, at least 3 slices, more to taste
6 eggs
½ cup milk
1 pinch ground nutmeg
2 pinches of thyme or oregano or both
1 small handful rosemary, chopped fine
Instructions
Let quiche rest for 10 minutes before serving. 

Preheat oven to 350°F convection bake.

Roll dough and place into pie plate.

Sprinkle the base of the pie with almond flour (this will absorb extra liquid and prevent the quiche from being soggy).

Layer the shredded cheeses prosciutto and half the pear slices on pastry.

In a separate bowl, whisk milk, egg, herbs and spices together.

Pour the egg mix into the pie plate, covering the pears, cheese, and ham.

Place the reserved pear slices on top. Sprinkle with additional herbs if desired.

Bake for 30 to 35 minutes or until the quiche is golden and no longer jiggles.
Kids Can
Crumble cheese
Crack eggs
Whisk
Roll pie crust
Watch Out For
Love blue cheese? We do too. Throw in a handful of crumbled blue cheese into the quiche for added flavor.