Pirate Sandwich
with Bacon, Egg & Cheese
Based on Treasure Island
by Robert Louis Stevenson
"I'm a plain man; rum and bacon and eggs is what I want and that head up there for to watch ships off.
What you mought call me? You mought call me captain."
(Chapter 1, Part One)
Ahoy, matey! When you be makin' this sandwich be shurr to talk like a pirate. Aye, the sillier you sound the better it will taste. You'll want all hands on deck to help assemble this simple breakfast sammy. They say the "X" marks the spot where the treasure is hidden. This sandwich hits the spot so you have the energy to find it!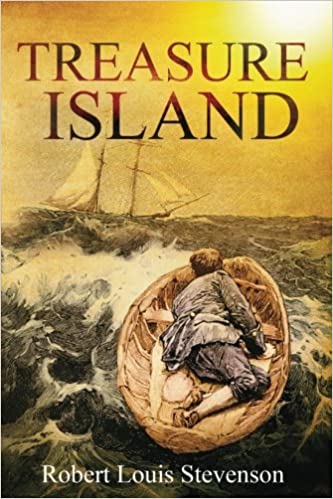 A healthy sandwich isn't just a lunchtime favorite. This handheld package of goodness is quick and inexpensive to make. It's the perfect vehicle for complex carbohydrates, good-for-you fats, and protein. A half-sandwich can be the morning meal you need to start your day off right.
Makes: 1 sandwich (serves 2 mini pirates)
Contains: Milk, Egg, Wheat
Challenge Level: Piece of Cake
Active Time: 20 minutes
Total Time: 20 minutes
Ingredients
2 slices whole grain sandwich bread
1 egg
3 pieces center-cut, low-sodium bacon
Handful (¼ cup) grated cheddar cheese
(Tip: I always have a little more cheese than we need for our sandwich for the boys to snack on while I cook the bacon.
Instructions
In a small bowl, crack the eggs and whisk to break up the yolks.
Lay 3 pieces of bacon in a cast iron skillet. Set heat to medium high and fry bacon until crispy, about 10 minutes.
In a separate nonstick frying pan, scramble the egg. When egg is no longer runny, about 5 minutes, remove from heat.
Take out two slices of sandwich bread and put them in the toaster.
As soon as toast pops out, spread a handful of cheese on both pieces. Top with cooked eggs and hot bacon.
Press sandwich together so the cheese melts and holds the sandwich together.
Cut in half and serve blow-on-it-hot.
Kids Can
Crack and whisk the egg with help
Put bread in the toaster
Grate the cheese with help
Assemble the sandwich
Watch Out For
Splattering oil from bacon
Hot pan
Blades of the grater are sharp
Cheese thieves
Swap in sliced turkey for the bacon if you are in a rush, just be sure to warm it in a pan first to maximize tastiness. If you caught the rum part of the quote above, click here for my Grog recipe.
Nutrient Analysis: (serving size: half a sandwich)