PS – I Love You Sugar Cookies
Based on I Love You Through and Through
by Carolyn Jane Church
One of our favorite and first books is I Love You Through and Through by Carolyn Jane Church. The simple rhyming story lists all the qualities that we love our children for — I love your happy side, sad side, silly side, mad side, and more! Even though we are now reading chapter books, I pull out this sweet board book about a boy and his teddy bear to remind my sons that I love them unconditionally – all of their qualities and feelings are precious to me.  I love them through and through!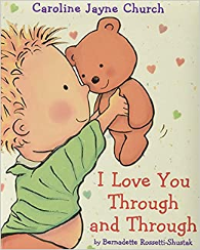 I think telling our children that we love them is important to their security and development, but that's just my opinion. However, research in the fields of nutrition, psychology and social work has found that cooking together brings families closer and strengthens cultural ties. Take the time to make "the family recipe" no matter what it is and improve the communication between family members and strengthen the bonds of your family and community. If you don't have a family recipe, you can whip out my Auntie's recipe for P.S. I Love You Sugar Cookies, and know that you are doing more for your family than providing a sweet treat, you are making memories with each other and ensuring a tradition continues into the future.
Makes: 3 dozen cookies – depending on shape
Contains: Milk, Egg, Wheat
Challenge Level: Piece of Cake
Active Time: 1 hour
Total Time: 1 hour 30 minutes
Ingredients
For the Sugar Cookies:
1½ sticks unsalted butter

¼ cup applesauce

1½ cups granulated sugar

1 egg

1½ teaspoons vanilla extract

½ teaspoon almond extract

2 teaspoons baking powder

¼ teaspoon salt

2¾ cups all purpose flour
For the Icing:
⅔ cup powdered sugar

1½ tablespoons milk

⅛ teaspoon almond extract
Instructions
Preheat oven to 350°F, convection bake.

Combine butter, sugar, egg, and extracts in the bowl of your stand mixer and beat until smooth.

In a separate bowl, sift together flour, baking powder and salt.

Add the dry ingredients to the bowl of your stand mixer. When dough forms and is light and fluffy, stop.

Divide the dough into 4 sections.

Roll out each section of dough on a lightly floured silpat to ¼ inch thick. Make sure to flour your rolling pin too. Set the silpat on a cookie sheet and chill the rolled dough in the refrigerator for 10 to 15 minutes.

Choose your favorite cookie cutters to make shapes. Remove excess dough and roll it to make more cookies. Repeat until you have used all the dough.

Bake for about 5 minutes. Note: Color is not an indication of doneness.

Transfer cookies to a wire rack to cool completely before icing.
To ice the cookies: This is easy! Mix together some powdered sugar, milk and almond extract. Drizzle icing on each cookie and let it set before eating or storing your cookies.
Kids Can
Sift dry ingredients
Roll the dough
Choose and stamp the cookie cutters
Decorate
Watch Out For
Over or under-chilling cookie dough
Raw dough isn't safe to eat, no matter how tempting!