"Smac" and Cheese
spaghetti squash and cheese
Based on
how to wash a wooly mammoth
by 
Michelle Robinson
Jacqueline Taylor, who illustrated my storybook cookbooks Cooking with Mother Goose and Celebrating with Mother Goose, gave us the step by step instruction book, How To Wash a Wooly Mammoth. I highly recommend you go out and grab yourself a copy. While the boys took their bath, I read them the story. We laughed (and splashed) as the girl in the story struggles to convince her pet wooly mammoth to the take a bath. The illustrations are SO brilliant! Later that evening, I was shredding spaghetti squash…and all I could think was, this looks just like wooly mammoth hair. While that may sound unappealing, I assure you that Axel and Rex thought it was hilarious that we were making pasta from wooly mammoth hair and gobbled it right up. 🤷🏻‍♀️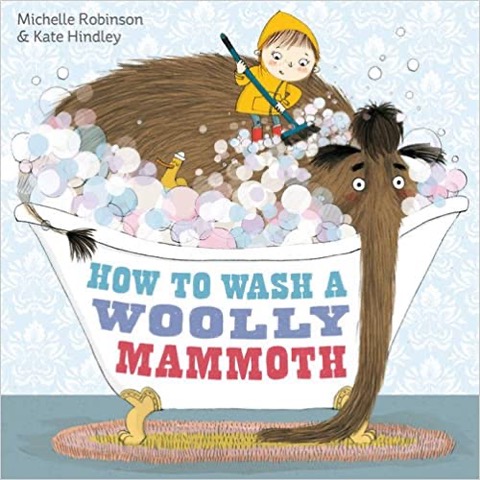 Swapping out traditional noodles for spaghetti squash is an easy way to enjoy a family-friendly favorite with an extra boost of nutrition. While no child will believe this dish is same as the "blue box one," they will accept it as their beloved blue box Mac and Cheese's health-conscious cousin.
Makes: 4 to 5 cups
Contains: Dairy
Diet Type: Gluten Free
Challenge Level: Just a Pinch Involved
Active Time: 30 minutes
Total Time: 1 hour 30 minutes
Ingredients
For the "Smac":
3½ -pound spaghetti squash*
*Note: Step 1 towards accepting Spaghetti Squash is to simply substitute spaghetti shaped noodles for the traditional macaroni pasta, as pictured here
For the Cheese:
¼ cup butter
¼ cup gluten free flour
2 cups milk
¼ cup nutritional yeast
2 cups shredded mozzarella
Instructions
Preheat oven to 350°F convection bake.
Cut spaghetti squash in half.
Spray cut side with cooking oil and place cut side down on a baking sheet.
Bake 50 minutes or until fresh is fork-tender.
Allow spaghetti squash to cool on the counter for 20 minutes.
Scoop out seeds and discard.
Use a fork to shred the squash flesh into spaghetti noodles.
Transfer noodles to a skillet on low heat while you make the cheese sauce.
Melt ¼ cup (1/2 stick) butter in a saucepan.
Add flour and whisk until combined and smooth.
Add ¼ cup of milk at a time, whisking continuously to avoid lumps.
When all the milk is incorporated stir in nutritional yeast and shredded cheese.
When cheese melts transfer sauce into the skillet with the spaghetti squash. Stir until combined.
Serve blow-on-it-hot!
Kids Can
Measure the cheese

Count the cups of milk

Taste nutritional yeast
Watch Out For
Spaghetti Squash is HOT when it comes out of the oven and stays that way for awhile. Let it cool so you don't burn your fingers.
Nutrient Analysis: (serving size: 1/3 cup)