Escargot Salad with Croutons & Vinaigrette
affectionately known as: "st. marks salad"
Based on Escargot
by Dashka Slater • Illustrated by Sydney Handson
The students of St. Mark's Episcopal School met with me today to write and make a recipe. We read the book Escargot by Dashka Slater and illustrated by Sydney Handson. Using Escargot's journey to the salad at the end of the book as inspiration, students from pre-kindergarten through 6th grade snipped, chopped, washed, and shook their way to a "salad with croutons and a light vinaigrette!"  Enjoy this bright dinner salad with your favorite French snail, Escargot!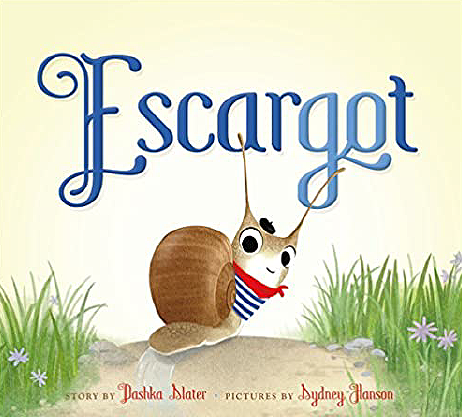 Different types of lettuces make a salad more interesting.  Leafy greens grow in a variety of flavors from faintly sweet butter lettuce to spicy arugula. Leaf textures give the humble green salad more dimension in your mouth. Kale is chewy and romaine is crisp. In addition to the taste and appeal of mixing up your greens, the variety of leaves add more vitamins and minerals into your food. And don't forget the toppings – orange carrots pop out of a green leafy background and spring onion and cucumbers add a freshness that makes this dinner salad so bright. 
Makes:8 cups of salad
Contains: Wheat (in the croutons)
Diet Type: Dairy Free, Gluten Free Option
Challenge Level: Piece of Cake
Active Time: 30 minutes
Total Time: 30 minutes
Ingredients
For the Light Vinaigrette:
½ cup extra virgin olive oil
2 tablespoons white wine vinegar
¼ teaspoon lemon
2 teaspoons grated shallot
2 teaspoons Dijon mustard
½ teaspoon salt
½ teaspoon pepper
For the Salad:
3 cups iceberg lettuce
2 cups romaine lettuce
1 cup each of baby spinach, kale, and arugula greens
½ to 1 English cucumber
1 large carrot
2 green onions
Croutons
Instructions
For the Light Vinaigrette:
This one's easy. Measure each ingredient and place in a blender.  Blitz until smooth. If you don't have a blender, place all ingredients in a jar with a tight-fitting lid and shake, Shake, SHAKE! until all the ingredients are incorporated.
For the Salad:
Wash hands with soap and water before you begin.
Measure 1 cup of each type of lettuce leaf. Use a salad spinner to wash and spin the lettuce. Add it to a large salad bowl.
Rinse green onion (green parts only), carrot and cucumber. Pat dry.
Use kid-safe scissors to cut the green onion into tiny pieces.
Cut the cucumber in half lengthwise. With the tip of a small spoon, gently scrape out the cucumber seeds. Discard the seeds.
With a wavy chopper or a kid-friendly chef's knife, slice the cucumber into crescent-moons.
Peel the carrot and slice into coins.
Sprinkle the sliced green onion, cucumber and carrots into the salad greens.
Pour on the dressing. Wish clean hands, mix the salad together.
Top with croutons (store bought or make your own, recipe follows) or crispy corn tortilla strips for a gluten free option.
Kids Can
Wash hands with soap and water

Cut green onion into pieces with kid-safe scissors

Wash and spin the lettuce

Taste the different lettuce leaves

Seed and scrape the cucumber

Shake the vinaigrette

Sprinkle the croutons
Watch Out For
Veggies can be slippery

Even kid-friendly knives are sharp

Finding that snails are your new favorite animal
Nutrient Analysis: (serving size: 1 cup)
Homemade Croutons
Definitely not gluten-free
Sometimes all it takes to get your kids to eat salad is to sprinkle crunchy, savory croutons on top. In essence, the meal is a salad with a deconstructed dinner roll, which means the littles are getting a belly-full of health benefits and you're getting no complaints! 
Makes:1 pan of croutons
Contains: Wheat
Diet Type: Dairy Free, Gluten Free Option 
Challenge Level: Piece of Cake
Active Time: 10 minutes
Total Time: 30 minutes
Ingredients
Day-old baguette (Tip: Choose Gluten Free bread if you're avoiding gluten)

Extra virgin olive oil

Garlic powder

Dried herbs to taste
Instructions
Preheat oven to 375°F.
Take a day-old baguette or other slightly stale bread and cut it into cubes.
In a bowl combine olive oil, garlic powder and any dried herbs you like.
Add cubes of bread to the bowl and mix with your hands until bread is coated.
Line a baking sheet with parchment paper.
Spread bread onto the baking sheet. Don't let the bread pieces touch each other.
Bake 10 minutes then rotate pan and flip bread pieces. Bake another 10 minutes.
Remove from oven and allow croutons to cool. Croutons will get even crispier as they cool.
Sprinkle fresh croutons on salads. Tip: Once croutons are completely cool, you can store any leftovers in a paper bag in the pantry.
Nutrient Analysis: (serving size: 2 tablespoons)