Upside-down Honey Cakes
Bear with me, honey.
Based on the book Bear Wants More
by Karma Wilson
"Bear opens presents; he gobbles honey cakes. He eats SO much that his big tummy aches." – From Bear Wants More 
Are you familiar with the Bear Books by Karma Wilson and Jane Chapman? My kids and l love reading the adventures of Bear and his animal friends. These sweet, rhyming stories follow Bear through hibernation, sick days, Christmas and being scared. We find it's easier to deal with and talk about our own emotions after reading about Bear. One of Bear's favorite foods is Honey Cakes. So, we imagined these slightly sweet, slightly nutty upside-down cakes to share with our good friend, Bear.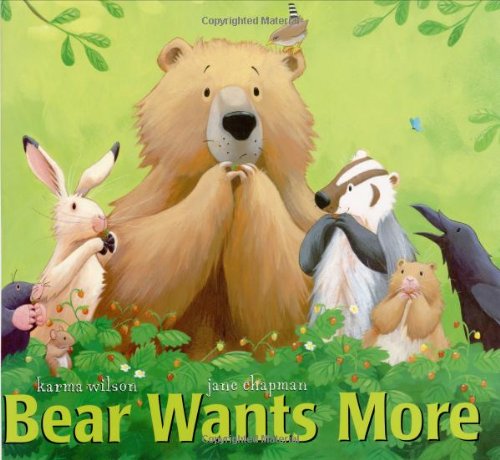 Baking is the first memory many of us have of preparing food with our family. Mixing and measuring ingredients and tasting sweet goodies straight from the oven is a happy memory I share with my mom, Gran and my own kids. Creating individual servings instead of one big cake makes it easier to maintain appropriate portion sizes. And the best part—when you bake a batch of mini-cakes you have enough to deliver to your friends and neighbors. Sharing is caring.
Makes: 12 cakes
Contains: Milk, Wheat, Tree Nuts
Challenge Level: Piece of Cake
Active Time: 30 minutes
Total Time: 45 minutes
Ingredients
3 tablespoons brown sugar
2 tablespoons unsalted butter, melted
1 tablespoon honey
½ cup almonds or hazelnuts (or a mix of both), toasted
2 cups all-purpose flour
1 tablespoon baking powder
¾ teaspoon salt
½ cup granulated sugar
2 teaspoons cinnamon
¾ cup milk
1/3 cup vegetable oil
Instructions
Preheat oven to 400°F, convection bake. We used silicon Bundt cake pan for this recipe. (Tip: if you don't have a Bundt cake pans, use a silicone muffin tray.)
In a small bowl combine brown sugar, melted butter and honey.
Spoon 1 teaspoon of honey mixture into each muffin cup.
Bash nuts into bits and then sprinkle them evenly on top of the honey mixture.
In a separate bowl, sift flour, baking powder and salt together.
Add sugar and cinnamon and stir to incorporate into the flour mix.
Make a well in the center and add milk and oil. Stir until just incorporated. (Note: batter will be stiff, it's ok).
Spoon cake batter into each Bundt pan (on top of the nuts). Fill each cup just over half way and press the batter into the sides of the pan, sealing it off. (Tip: this keeps the gooey nutty sticky honey from oozing out.)
Bake 15 minutes or until golden brown and the cakes pass the "Toothpick Test".
Allow cakes to cool, then slide a butter knife around the edges of each cup. Flip the silicon pan upside-down. Carefully help the cakes fall out.
Serve cakes honey-nut side up on top with a dollop of whipped honey butter for extra goodness.
Kids Can
Prepare muffin cups
Sift flour, baking powder and salt
Bash nuts
Fill muffin cups
Watch Out For
Hot oven
Impatience, don't flip these cakes until they are cool
P.S. – Whipped Honey Butter
Makes: 8 (generous) tablespoons
Contains: Milk
Diet Type: Gluten Free
Challenge Level: Piece of Cake
Active Time: 5 minutes
Total Time: 5 minutes
Ingredients
1 stick (115 grams) unsalted butter
3 tablespoons honey
Pinch of salt or to taste
Instructions
Place all ingredient in a stand-up mixer fitted with the whisk attachment.
Beat until ingredients are incorporated and fluffy. Taste. Adjust honey and salt as necessary.
Store in refrigerator or freeze in an airtight container (like a glass jar).
Kids Can
Do everything with the help of an adult
Watch Out For
This is a safe recipe – just be sure your stand-up mixer is balanced and locked in place.
Nutrient Analysis: Serving Size 1/2 tablespoon